Athletics & Recreation
---
We don't just cheer for our Revolutionaries' 20 varsity teams, we Raise High the Buff and Blue! The GW Revs have won team championships in 16 different sports — from basketball to cross country, gymnastics to golf, and we're excellent in and on the water too with recent team championships in swimming & diving, rowing and water polo. With an Army of Revolutionaries fans loyal to GW, it's no surprise our teams have thrived in the Atlantic 10 conference and across the country. Over the past four years alone, we have won 12 conference championships.
In the classroom and in competition, our athletes excel: approximately 300 make the Dean's List each semester with a 3.0 or higher GPA. That's a Revolutionary record in any arena. 
All-Conference Honorees in 2022-23
All-Academic Honorees in 2022-23
Major award winners in 2022-23
Coaches of the Year in 2022-23
Combined NCAA Appearances for Men's & Women's Basketball
---
Our Alumni
Prominent Athletics' alumni include: the most decorated Black winter Olympian and 2022 Commencement Speaker, Elana Meyers Taylor; the 2021 Women's National Basketball Association Most Valuable Player, Jonquel Jones; and NBA Basketball Hall of Famer Red Auerbach. Other Olympians include Patricio Garino, Pops Mensah-Bonsu and Yuta Wantanabe (men's basketball); Katura Horton-Perinchief (diving), Tina Brown, Michelle Knox Zaloom and Linda Miller (women's rowing), and Juan Bocanegra and Chad Senior (men's swimming).
"Being a part of the GW community has helped me grow as an individual in ways I never expected. It's given me the opportunity to learn from and build relationships with coaches, professors, teammates, mentors, and alumni who are a part of one of the best
universities in the world right in the heart of the Nation's Capital."
MAYOWA TAIWO
Women's Basketball
Major: Civil Engineering
---
Raise High Revolutionaries!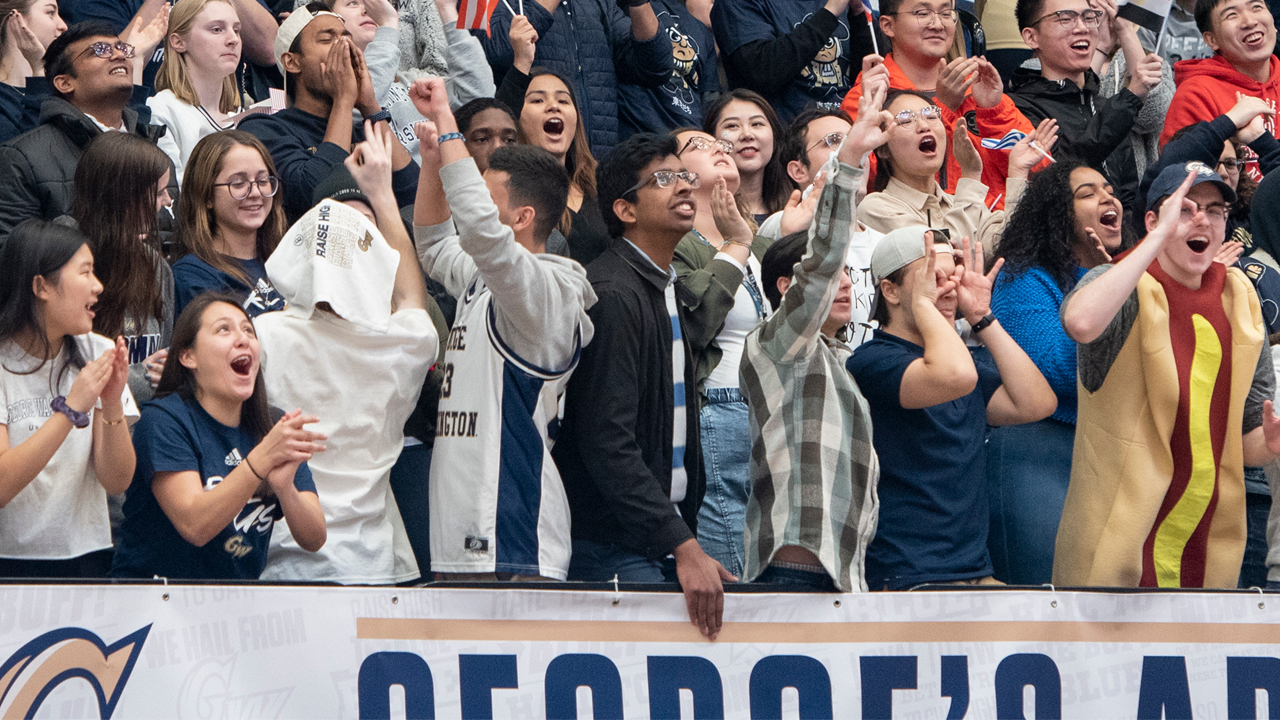 ​
Change the Game with George's Army
Our fans give us the edge at home. It's what we call a monumental home court advantage. Join George's Army, our official student fan group, and be part of the game, every game.
You Bet We're Loyal to GW!
Learn it and love it: The GW fight song is a tradition at our games. Before long, you'll raise high the buff, raise high the blue, as if you've been doing it your entire life.
"GW has been a special place for me where I have been able to maximize my potential athletically and academically. I have been surrounded by the best coaches and teammates, who have been incredibly supportive and respectful of each other and have made my college experience exceptional. "
MAREK OSINA
Men's Swimming
Major: Accountancy
Campus Recreation
Play Club and Intramural Sports
You don't have to be a varsity athlete to love the game. GW has more than 50 club and intramural sports you can join — from ice hockey to ultimate frisbee. Pro tip: You'll love playing on the National Mall.
Working Out on Foggy Bottom
Lerner Health & Wellness Center, our fitness center on Foggy Bottom, has everything you need to stay healthy. From a variety of cardio and strength training equipment to group fitness classes to racquetball courts, you'll have fun while working out.
Working Out on Mount Vernon 
Our state-of-the-art fitness center in West Hall is equipped with everything from free weights to recumbent bikes. It's open to all members of the Mount Vernon Campus community free of charge.